Home > About Mag Layers > Company Profile
Company Profile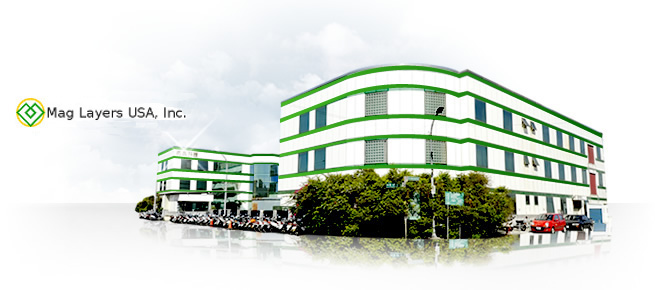 Established in April of 1990, Mag Layers USA, Inc. set out to provide a high quality and cost-effective component solution to the growing electronic industry. In 1997, Mag.Layers was the first Taiwanese company in the same industry to receive the ISO9001 certification. We received the QS9000 certificate in 2000, ISO14001 in 2005, and TS16949 in 2009, respectively.
Quality products at competitive price are the foundation of our success. We support customers in a global scale, with the sales offices in Taiwan, China, Hong Kong, South-east Asia, Japan, Korea, Europe, and USA. The Manufacturing facilities locate in Hsinchu and Taoyuan, Taiwan and in Kunshan, China, totaling over 100,000 square meters along with 10K and 100K class clean rooms. Customer service is the code of our business relationship.
Mag Layers' commitment to innovative technology, with advanced material, component design, processing, and automation, helps us to develop cutting edge and exciting products to the market. Innovation and satisfaction is the key to our continuous growth. Contact Mag.Layers and we will serve and grow with you.